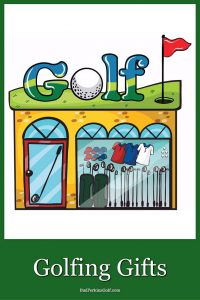 It's the holiday, and there is only one thing that the golfer in your life wants. Golf stuff. However, "golf stuff" covers quite a bit of ground, and if you are not a golfer yourself, it can be pretty difficult coming up with suitable golf gifts for your friend or loved one.
In order to help you get the best gifts possible for the golfer in your life, today we will go over some of your options. Read on for a guide to buying the best golf gifts this holiday season.
Golf gifts – what's out there
There is a pretty large variety of golf-related gift ideas that are out there and for that reason, we will break your options into categories for ease of use.
Apparel
Buying your friend or loved one golf clothes is a great way to provide them with something that they both want and need. Golf apparel can be somewhat pricy but since it is very literally required by most courses, the golfer in your life will be needing it regardless. Here are a few different options to consider as you look at golf apparel.
Winter wear: It's starting to get cold outside, but good winter wear can extend the season considerably. Pullovers, windbreakers, golf pants, and even specially insulated gloves will go a long way towards keeping your friends and family members warm during winter golf sessions.
Collared shirts: The classic golf shirt is simple, but it is also a must have. Many courses won't even let you on the links without one. That aside, fashion is often changing, and your loved ones may very well appreciate the ability to keep up with fashionable golf trends.
Accessories: There are also smaller items to consider. Gloves, hats, and belts are all great ways to tie a fashionable outfit together.
Shoes: A good pair of golf shoes is an important piece of equipment that will help your loved ones play better. Just make sure you know their size going in.
Training aids
Training aids are a little bit controversial but the right one can be something of a game changer. There are plenty of devices out there ranging in complexity from alignment sticks all the way to tools that are designed to help fix your swing plane.
Since there is truly no end to the number of categories of products out there, it would be difficult to compartmentalize them in that way.  If you would like to buy a training aid as a gift be sure to first try and figure out what area of the swing your loved one is struggling with. After that, research highly regarded swing aids. Not all products are equal, so make sure there are plenty of good reviews out there about the product that you do end up choosing.
A good tip for buying swing aids is to look for products that don't make big promises. There is no such thing as a quick fix in golf. When a product claims that it will add thirty yards to your swing, or straighten every drive, it is making a promise that cannot possibly be delivered upon.
The best training aids are going to market themselves around reasonable, specific promises. For example, a good training aid might promise to help you turn better in your backswing, or release your hands properly through the ball.
Small fixes are ultimately going to yield better results than the products with big promises, so don't fall victim to false advertising.
Golf tech
The golf GPS has become pretty big over the past few years. Products of this nature are designed to give players information about the course. This data incudes stuff like how far they are from the hole, as well as information as to where the nearest trap is. Golf GPSs can set you back anywhere from $100 to several hundred dollars.
There are also shot trackers available that hook up to the bottom of your clubs and then sync with your phone to give you information on your swing. The trackers themselves are small and hardly noticeable on the butt of the shaft of your club, and the data that they give the golfers that use them is pretty valuable.
Gifts of this nature might not suit the interests of every golfer but for those that are comfortable with technology, it will make a great gift.
Lessons
A few lessons with the right instructor can really turn a player's game around. That said, lessons can be a little bit pricy which is why the golfer in your life might not be buying them for themselves. Paying for a few lessons with renowned teacher will be very beneficial to the games of your loved ones.
The good news is that researching professionals in the area is fairly easy. Most instructors have an online presence, and you should have no trouble finding reviews about the quality of their services. It is generally ideal that golfers spend a least a few sessions with their instructors so that the professional has time to understand the kinks of their swing, but the recipient of your gift is sure to appreciate whatever you are able to give them.
Clubs
When you thought about getting the golfer in your life something special this holiday season, clubs were undoubtedly one of the first things that came to your mind. While new golf clubs will most likely be quite appreciated it can be a little bit complicated knowing how to approach getting them. For that reason, we have broken down the ideal approach you should take for each type of club.
Wedges
Wedges are actually going to be the easiest to buy, and virtually every golfer can benefit from a new one. If you don't already know what the recipient of your gift wants in a wedge, take a peak in their golf bag. If one of their wedges is worn down (you will be able to tell that it is worn down if the grooves on the face are smooth and dull) you can replace it simply by noting the brand, loft, and lie angle, and then using that information to buy the latest model.
Just be sure to get the right specifications. Bounce angle, in particular, is a little thing that can make a big difference. You should be able to find the bounce angle somewhere on the hosel of the wedge.
Putters
The putter is a classic, though somewhat risky golf gift. Everyone, of course, needs a good putter, but it is a club that is also highly individualized. Some players spend a lot of time shopping around for their putters, considering the merits of each club via their weight, appearance, and feel, while other players will be perfectly happy to receive a nice new flat stick as a gift regardless of its specifications. Determine which sort of player the recipient of your gift is before making the purchase of a putter as a gift.
Woods
Woods (driver, fairway woods, hybrids) can also be a little bit difficult to shop for but certainly not impossible. If you would like to give your loved one the gift of a new driver, and you are confident that they will not mind loosing out on the chance to pick one out for themselves, there are a few things that you are going to need to know.
The first is their manufacturer of choice. Most golfers prefer one brand of club over another, so try and figure out what company this special person in your life prefers. It may very well be the manufacturer that made the wood that is currently in their bag, though you may wish to make sure before making your purchase.
You are also going to need to know their ideal loft, and shaft flex. The majority of golfers are going to benefit from a regular flex shaft, but the best way to know for sure is to find out what they are currently playing. The same is true for the loft. You will be able to find out what loft and shaft flexibility a person is playing simply by taking a peak at their clubs. Flex is written on the shaft, while the loft should be noted somewhere on the head of the club.
While you may very well find success with this approach, do also note that the very best way to make sure a club is properly to the specifications of a player is to have them fit by a professional. In order to accomplish this, however, you may need to spoil the surprise element of your gift, and take your friend or loved one to the golf shop with you.
Irons
If you decide that you want to get someone in your life a new set of irons for the holidays it is going to set you back a bit (somewhere in the neighborhood of $1,000). Given how expensive irons are, you probably aren't going to want to mess around with guessing what they might like. In order to give new irons as a gift you may simply purchase a gift certificate to a golf shop that covers both the cost of new clubs, and a proper fitting from a professional. While handing someone an envelope isn't as exciting as handing someone a golf club shaped package, it will ultimately be the best way to ensure they get what they want.
Golf
Finally, you can never go wrong with giving someone the gift of golf. Virtually every golf course in the world offers gift certificates, so find out what course your loved one favors, and head on down to the pro shop to buy them a round or two!
Conclusion
As you can see, there are plenty of options for golf gifts out there. While some of them come with intimidating price tags, you don't need to spend an arm and a leg to make the golfer in your life happy this holiday season. There are golf gifts out there for every budget, so just relax, and be confident in the fact that you are giving the special person in your life something they will love!