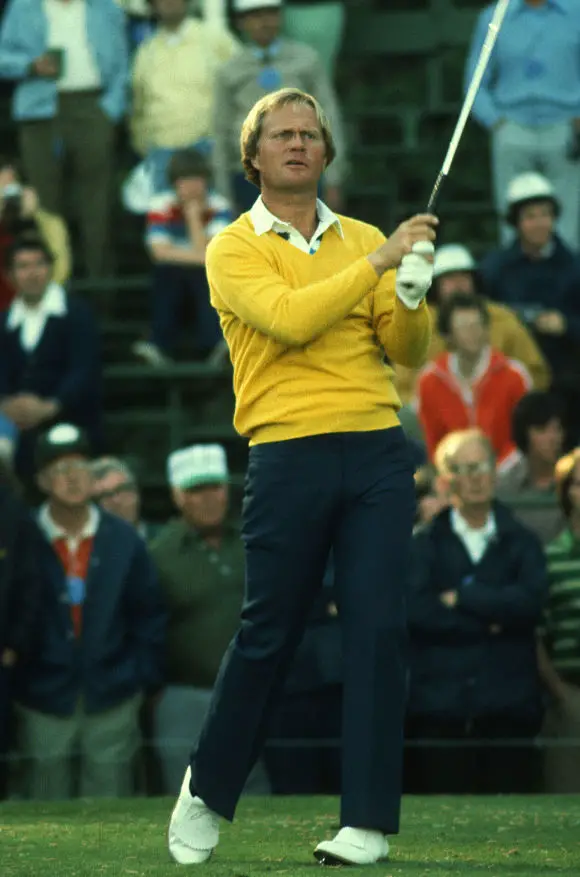 Jack Nicklaus is perhaps the greatest golfer that the game has ever known. The Golden Bear has won the third most PGA tournaments of all time (behind Tiger Woods and Sam Snead), and he still holds the record for the most majors won of all time, with a whopping eighteen championships to his name.
It is safe to say that for as long as the game of golf is around, Jack Nicklaus will be a juggernaut of the sport. But for as much as we know about his accomplishments behind the ropes, most fans know very little about what made him the legend that he is now.
Today we are going to fix that by taking a looking at the life and accomplishments of one of the greatest athletes of all time.
Jack Nicklaus biography
The Golden Cub
Jack Nicklaus was born in Columbus Ohio in the year 1940 to parents Charlie, and Helen Nicklaus. Nicklaus enjoyed charmed early years learning taking up the game of golf alongside his father, a sportsman himself, who had played college football at Ohio State University, and even went on to play semi-professional ball.
Charlie Nicklaus was a successful pharmacist that owned several drugstores. As a result, the Nicklaus's benefited from an upper middle-class upbringing that granted young Jack Nicklaus access to the resources of Scioto Country Club where he benefited from the instruction of club pro Jack Grout – the pro that would instruct him for the entirety of his career. Grout himself was a successful competitive player that was a contemporary of golf legends Byron Nelson, and Ben Hogan.
Jack did not pick up golf as early as many professionals did. He was not Tiger Woods, swinging a club before he could even fully walk, but at the age of ten when he finally did discover the sport, it is said that he picked it up very quickly, shooting an impressive 51 on the first nine holes that he ever played.
From there, he grew into the game very quickly – winning the first five Ohio Amateur tournaments that he entered. Two years later he would break seventy for the first time in his life, and then qualify at the regional record setting age of thirteen for the U.S Junior Amateur.
Unfortunately, young Nicklaus did not take home the hardware for that event, but he did last three gruelling rounds of match play. He would later go on to achieve a handicap of +3 – the lowest in the region for anyone of his age.
He was a prodigy, and he would continuously prove that all throughout his youth, qualifying for the U.S Amateur at age fifteen, and then going on to win 27 prestigious tournaments in the Ohio area between the ages of 10 – 17.
It was obvious to everyone watching young Jack Nicklaus's career that he was destined for great things, and these assumptions reached their fulfillment when he played in his first PGA tour tournament (The Rubber City Open) at age eighteen – finishing the event in twelfth place.
He ended his amateur career with a string of impressive victories and competitive finishes in major and professional tournaments.
These flourishes of greatness took him all the way through his college studies where he met his wife, Barbara, and completed his degree in pre-pharmacy – though he planned on beginning a career in insurance sales.
Of course, his future in insurance was doomed never to be. The possibility of professional golf greatness knocked, and the Golden Bear answered.
Professional years
Jack Nicklaus officially joined the PGA tour in 1961. For most of his time in college he had thought about playing as an amateur for his entire life the same way that golfing legend Bobby Jones had done, but ultimately, the temptation of his incredible potential proved to be too much.
While Nicklaus technically began his pro career in 1961, his first full season was in 1962, and it was that year that he really took the world of golf by storm, securing he U.S Open title at Oakmont for his first win, defeating fan favorite Arnold Palmer. It was this event that began the historic rivalry that would stretch across both of their incredible careers.
That year, Nicklaus would go on to win two more titles, and fully establish himself as a true force to be reckoned with.
The next year he would win two more major titles and continue on the path that would ultimately lead to his record setting total of eighteen.
During these years of earning many championships, Nicklaus would also establish himself as a brandable athlete – earning plenty of endorsement revenue opportunities that professional golfers continue to enjoy to this day.
Like all golfers, his career would have ups and downs through the years, but nevertheless he continued to enjoy plenty of victories all the way through the 1970s.
By the time the 80s had arrived, however, the Golden Bear's success had more or less stalled. Between 1980-86, he won only two tournaments, none of which were majors.
Jack would have one last flourish of greatness at the 1986 Master's tournament, where he shot a breath taking 65 in the final round to bring home the green jacket. Nicklaus played the last nine holes at seven under par, including six birdies and an eagle.
This would be Jack's final victory on the PGA tour, but even still it is considered one of the best wins in the history of the sport, and it only serves to further prove that there are few champions as great as Jack Nicklaus.
Conclusion
Jack is now closing in on eighty. He doesn't play professionally anymore, but for fans of golf his presence in the sport is still a warming comfort. The Golden Bear can still be found hosting the prestigious Memorial Golf Tournament that garners the attention of some of the biggest names in the sport.
He can also still be found writing the occasional articles for famed publications like Golf Digest.
While Jack might take a quieter approach to his involvement in the sport of golf these days, his figure still looms large. He may not tee it up competitively anymore, but for the champions that currently occupy the tour, his career remains the gold standard of golf.
And of course, there is still his remarkable record: the eighteen-major championship wins that no one, not even Tiger Woods, has been able to beat. For as long as that record stands, Jack will forever be considered the greatest golfer of the modern era.
See also: