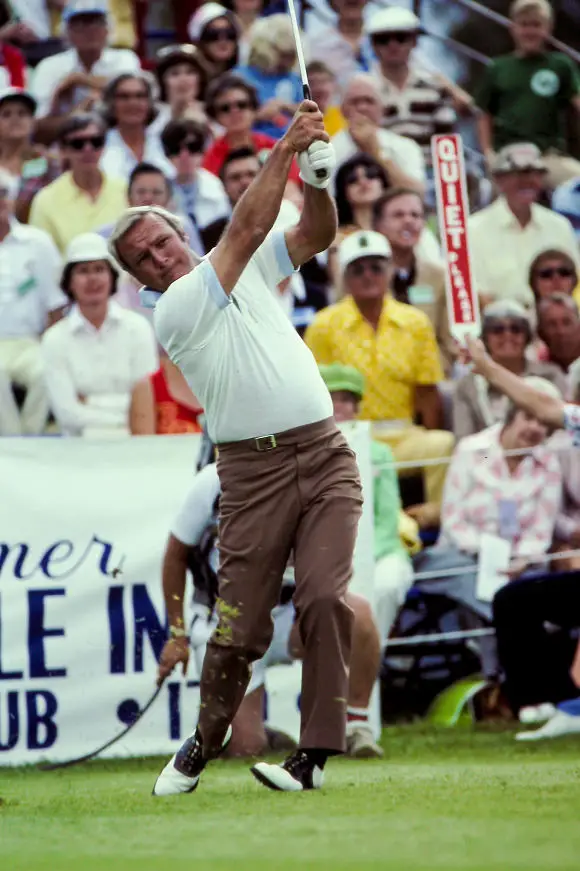 Before Tiger Woods took the world by storm, before Rory Mcilroy, Jordan Spieth, Justin Thomas, Sergio Garcia, Phil Mickelson, even before the Golden Bear, there was a legend out on the PGA tour winning titles and stoking the flames of enthusiasm for professional golf.
There is a reason that they call Arnold Palmer the King. With over sixty wins including a half dozen major titles to his name, Palmer will always have a place in the record books.
But even without his countless wins, Arnold Palmer was always special. In a sport ordinarily reserved for the wealthy, Palmer was a blue collar every man with a rough looking swing that utilized power and strength rather than technical prowess. It didn't hurt that he was also handsome, charming, and great with his fans.
Truly, Palmer set the standard for what it means to an icon in the game of golf. Today we will be taking a look at his personal and professional life.
Arnold Palmer biography
Early life
Arnold Palmer was born in the working class steel mill town of Latrobe Pennsylvania to parents Doris and Deacon Palmer. Like many iconic golfers, Palmer grew up in a country club setting, though not in the same capacity as many of the people who would eventually become his peers.
Deacon Palmer was a greenskeeper at a local country club, and his role in that field allowed Arnold the opportunity to accompany his father to work and learn the game slowly over time with him.
While young Arnold would take to the game fairly quickly, he would not have the same amateur career that gave many professional golfers their competitive start.
While he would compete in and win a steady stream of amateur titles in his teen years, his competitive victory streak would really elevate in his early twenties shortly before he turned pro.
These amateur experiences would culminate in a victory at the U.S Amateur that would ultimately be the catalyzing event that led to him going pro. Palmer would say of his victory at the U.S Amateur, "That victory was the turning point in my life. It gave me confidence I could compete at the highest level of the game".
But even with all of Palmer's promise and potential, it would take a little it of time for him to get started with his professional career.
It wasn't until after he'd spent three years in the coast guard, and even taken a job as a paint salesman that Palmer ultimately made the transition from amateur to pro, though even before then his skill was widely regarded by those that knew him. Even at his job as a salesman, it is said that he made the majority of his commissions by impressing clients on the golf course.
Shortly before announcing his intentions to go pro, Palmer would play in one final amateur tournament, the Waite Memorial, where he would meet his future wife Winnifred.
Despite Palmers late start in the game, he would go on to become a true juggernaut of the sport.
Career
Palmer would enjoy a fast start, collecting a professional win in his rookie season of 1955 at the Canadian Open, receiving a first place prize of $2,400.
By 1958 he would win his first major, the Masters, and cement himself as a prominent name in the sport. By 1960, he would sign as the very first client of sports agent Mark McCormack, a partnership that would prove very lucrative for both of them.
Once Palmer signed with McCormack, his brand really popped. The agent attributed this increase in marketability to several factors, including Palmer's humble upbringing, his handsome features, his knack for hitting risky shots at the right times, and his general affability.
In addition to increasing the branding potential of professional golfers, Palmer would also establish the British Open as a championship that Americans approached with enthusiasm as well.
Previously, the tournament had received very little attention from American golfers both because the traveling accommodations were difficult and expensive, and because the purse itself was relatively mild even by the standards of the day.
Palmer, however, wanted to take after some of his own golfing role models, such as Hogan, Snead, and Jones, and so he would participate regularly in the British Open. He drew particular attention to the sport in 1960 when he competed in Scotland, playing what he would go on to refer to as the four best rounds of his career.
Palmer would ultimately lose the 1960 Open Championship by a single shot but would win several titles in the coming years that would further secure the Open Championship as a worthwhile endeavor for American golfers.
Arnold Palmer would enjoy success for the entirety of his career, but perhaps never more so between 1960 – 63 where he would win 29 events, five of which were major championships.
During this period of championship victories, Palmer would rightfully earn the nickname "The King," – a fitting title for a man that did more to increase the popularity of golf as a professional sport than perhaps anyone else.
Throughout his career he was celebrated by legions of fans referred to playfully as "Arnie's Army." By the 80s, Palmer would slow down a little bit when it came to tournament play with the PGA, though he would participate sporadically in the Senior PGA.
Arnold Palmer passed away of heart complications on September 25, 2016, leaving behind a wife and two daughters.
Conclusion
There are golfers that have won more titles and set more records than Palmer. Certainly, there are players that have won more money and seen their faces on more advertisements.
It doesn't matter. Arnold Palmer was a personality. An icon. A champion. He brought the game to people who had never previously related to it. He drove the ball with power before that was common. And he never shied away from a risky shot.
Arnie is gone now, but his memory will continue to endure, continue to shape the game, continue to inspire new generations of golfers.
See also: