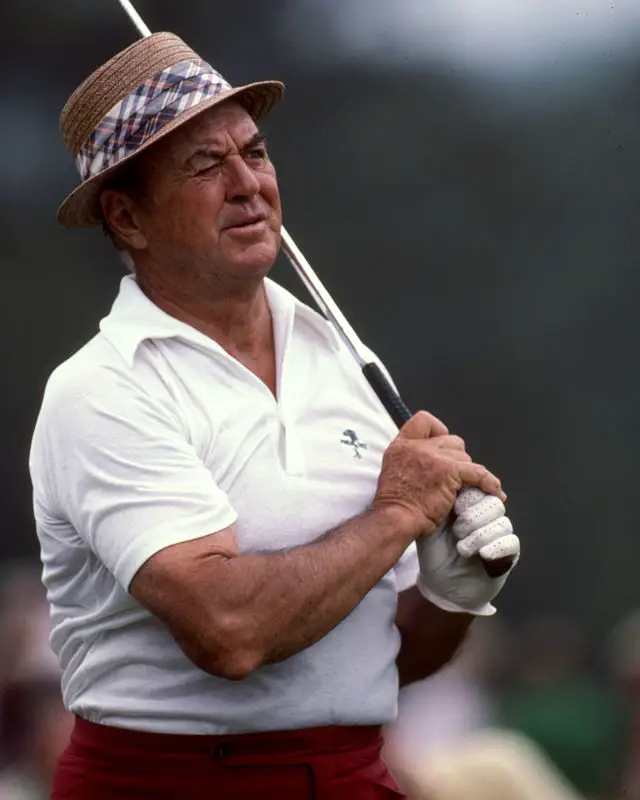 Golf is a game of icons. Without the presence of teams or institutions there are only the accomplishments of incredible individuals to faun over. Jack Nicklaus has his eighteen majors, Woods has his Tiger Slam, and Bobby Jones has the Grand Slam.
However, you might be surprised to learn that none of these legends hold the record for most career victories. Before Tiger, Jack, Arnie, or even Hogan, there was one man playing the game in a way that it had never been played before.
Sam Snead was, and remains one of the most skilled golfers to ever tee it up. Today we will highlight the life and accomplishments of one of golf's greatest champions.
Sam Snead biography
Early life
In the year of 1912 Sam Snead was born in Ashwood Virginia. While he was not quite the prodigy that swung the club before they could even take a stable step he was nevertheless fairly young to learn the sport.
At age seven Snead took up work as a caddy at The Homestead in Hot Springs where he began to learn the game the traditional way: through long and grueling hours on the course.
This course would serve as the building blocks of his entire career. Snead would continue to improve there for over a decade until finally he became the assistant pro at the age of nineteen.
He would work there for a few years before finally winning several matches as a professional that would net him aggregate earnings of $10,000.
With that seed money, Snead was able to quit working as a teaching professional and focus entirely on his career as a competitor.
Career
Snead's career as a full time professional would start out hot. In 1937, his first year out on the tour, Snead would claim an incredible five titles.
The following year he would go on to claim his first title at a tournament he would go on to own a historic eight times over the course of his career: The Greater Greensboro Open. This record would last until 2013 until Tiger Woods tied it with an eighth win of his own at the Arnold Palmer invitational.
One record that remains in place occurred during his last victory at the Greensboro when he won the tournament at the age of fifty-two making him the oldest player to ever win a professional title.
It would quickly become very clear that Snead was a force to be reckoned with. His ability to clench titles on the tour was unmatched by any one else of his era.
However, even at the height of his powers on the course he would never quite manage to accomplish all of his goals. While Snead would win an incredible seven majors throughout the course of his historic career not a single one of them would be the U.S open.
Like Phil Mickelson, Snead would live his life always the bridesmaid but never the bride at our nation's championship.
Snead would ultimately secure a runner up spot four times at this championship, including several infamous missteps.
In 1939 Snead would triple bogey the final hole of the championship as he tried to make a risky birdie that he thought he needed to win (he actually only needed a par). In 1947 he would miss a thirty inch putt that would have secured him the title.
These tiny but crucial errors ultimately insured that Snead would never win the much coveted career grand slam – one of the only professional achievements that he would be denied.
However, these disappointments did not stop him from finding tremendous success. In 1950, Snead not only won eleven times but also maintained the lowest scoring average in the history of the sport (69.20 – a record that would endure until Tiger broke it in 2000).
Snead was able to accomplish these records even despite the fact that he would take two years off the tour to serve in World War 2.
Honest Abe
Snead was also a famously honorable player who took the sport's reputation as a gentleman's game to heart. This was never clearer than in the two titles that he forfeited deliberately to ensure that they were deemed fair.
The first incident occurred in the 1952 Jacksonville Open where Sam Snead elected to forfeit the title rather than play in the eighteen hole play off for the championship that his seventy hole score had qualified him for.
Snead elected to forfeit because earlier in the tournament he had benefitted from a beneficial ruling from a governing official who had determined that his out of bounds tee shot was still playable because the players had not been notified of this new boundary before teeing off.
After the standard run of the tournament had concluded and it came time to start the play off, Snead decided that he felt uncomfortable playing in it given how much the ruling had benefitted him, and decided to surrender the title to Doug Ford.
The second surrender came during a controversial exhibition match between himself and tour player Mason Rudolf.
During this match Snead decided to deliberately lose after he realized on the twelfth hole that he was playing with a fifteenth club in his bag.
Though he never used this fifteenth club, the roles of golf mandated that he would have been disqualified.
However, because it was an exhibition match, he decided not to interrupt the show.
Conclusion
While it seems probable that Tiger Woods will one day dethrone Snead and his record of eighty two professional career wins, the fact of the matter remains that Snead's legend will produce a shadow over the sport that will endure for as long as people play the game.
The level of dominance Snead held over the game during his time has rarely been replicated and may never be surpassed. The game may have changed substantially since he played it, but one thing never will: Sam Snead is an icon that the game of golf is very lucky to have.
See also: