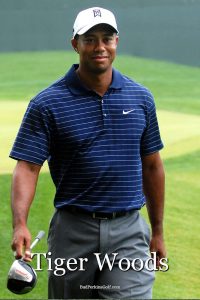 There are a few people in the world that are so famous they will forever be instantly recognizable by their first name alone. Of course, it does help when your name is "Tiger."
When a great athlete emerges into a sport, people will often discuss the ways in which they have changed the way their game is played. You hear it said about all of the greats, but it has perhaps never been more true than it was in the case of Tiger Woods.
The day 21 year old Tiger Woods won the Masters by a mind blowing twelve strokes to take the world of golf (and sports at large) by storm, the game changed forever. Courses got longer, purses and sponsorship opportunities got much bigger, and the world came to know Tiger's name.
Tiger Woods biography
Today we will take a look at the life and legacy of Tiger Woods and perhaps even learn some insights as to how he became not just the best golfer in the world, but perhaps even the greatest athlete.
Early years
In 1975 an icon was born to parents Kultilda and Earl Woods in Orange County California. While the young Woods would be known from an early age as Tiger (a nickname referencing a friend that his father served with in the military) he was actually born "Eldreck Tont Woods."
Tiger Woods was destined to be a golfing legend. Tiger was a prodigy, taking up the sport at two years old watching his father hitting shots into a net in their garage and replicating what he saw.
In the early years of his life, Earl, who was a single digit handicap golfer himself, would serve mostly as Tiger's coach. Of course, Tiger was a quick learner. At the age of three, he would shoot a forty-eight over nine holes at a military course.
He would also gain small celebrity after engaging in a televised putting contest with Bob Hope, which young Tiger would go on to win.
By the time he was five, he was featured in a Golf Digest profile, and was even included on an ABC special called "That's Incredible."
By the time he was eight he would break eighty for the first time, and after that tournament success came quickly. He would go on to win the World Junior Championship six times, including four consecutive wins.
By the time he was thirteen he was beginning to get the attention of pros. He would play with John Daly at the "Big I" (a major amateur tournament that placed pros in groups with qualifying amateurs). At that event, Daly beat Tiger by only one stroke.
He would also meet Jack Nicklaus for the first time as a teenager, while both men were featured at a clinic at the Bel-Air country club. It was around this time that Tiger developed an obsession fostered by his father with the achievements of Nicklaus.
In order to encourage Tiger to find success with his professional pursuits, Earl Woods motivated him by posting Nicklaus's records up in Tiger's room. The young prodigy's goal was not just to make it as a professional: it was to be the greatest that ever lived.
While Tiger would not quite take the world by storm until he turned professional in 1996, he continued to attract attention from the golf community with a healthy stretch of amateur victories including notable wins at the U.S Junior Amateur, and the U.S Amateur.
In 1994 he went to Stanford University where he would stay for two years before going pro.
Professional highlights
To list all of Tiger Woods' achievements would require a book (and indeed, his career has inspired quite a few.) However, there are more than a few achievements that are wroth making note of.
As mentioned earlier, it was 1996 when Tiger went pro, immediately forming his career long partnership with Nike Golf.
That year he would be named the Sportsman of the Year and the Rookie of the Year, and receive a number of other lesser honors as well.
Tiger really exploded in 97, however, where he won an epic Master's that catapulted him into super stardom. He would go on to have a luke warm 98 season as he underwent some swing changes with Butch Harmon, but in 99 and 2000 he would enjoy two of the most successful seasons ever recorded on the tour which included fifteen combined wins chief among them a victory at the U.S Open that saw him win by an epic fifteen shots.
It was the 2000-2001 season that would also see Woods achieve what is now widely referred to as the "Tiger Slam."
In golf, the Grand Slam refers to a season in which a golfer wins all four majors in one season. This has been achieved only once by Bobby Jones. While Tiger was not able to manage this, he did hold all four titles at the same time, winning the U.S Open, the British Open, and the PGA Championship in 2000 and the Masters in 2001.
Tiger would enjoy similar flourishes or success all the way up until 2008 where he won the U.S Open on a crippled knee in a historic eighteen hole playoff with tour journeyman Rocco Mediate.
Since 2008, Tiger's success has been sporadic. Coming off several serious injuries, and a well-publicized scandal, Tiger is currently almost a decade removed from his last major victory.
Even still, as Tiger launches his most recent comeback, hopes are still high for his return to greatness.
Conclusion
At this point, it isn't exactly easy to say whether or not Tiger will ever be a tournament winning machine again.
Now that the big cat has reached his forties, chances are the champion that we once knew is a thing of the past.
That doesn't mean that he won't start winning again. It doesn't even necessarily mean that he won't beat Jack's record. But after countless surgeries, and a sporadic recovery schedule that has put him in the back seat for most of the past seven seasons, it is fair to say that the lanky young man with the explosive swing and a putter that doesn't miss might be just a pleasant memory.
It doesn't matter. Even if Tiger never approaches the top ten again his eighty wins will keep him forever in the record books. His fourteen majors will always be an impressive landmark that few other pros will even glimpse.
He will still be the man that turned golf into a sport, not just won tournaments but demolished them. He will still be the pro that every young gun teeing it up today wants to be.
Tiger is an icon, and while he may never achieve the record he has had his eye on for the entirety of his career he still represents a gold standard that few will ever match and none are likely to ever beat.
See also: