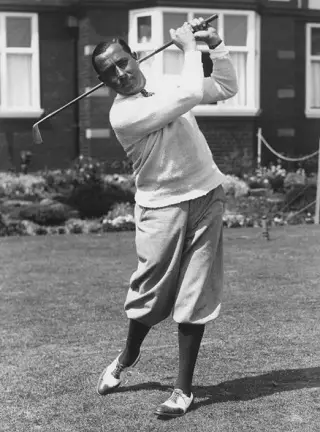 The game of golf as a professional sport is built around heroes. The sport is so individualized that, with no teams to root for fans have only the legacies of the game's elite to admire.
If you are a fan of the game then you are probably well aware of the lives and legacies of many of the sport's best – especially when it comes to those who have teed it up in the modern era.
One player that you might need some brushing up on is Walter Hagen, an icon whose achievements still shine bright even fifty years after his passing.
Today we will take a look at the life and achievements of Walter Hagen.
Walter Hagen biography
Early life
Hagen was born in New York to a working-class German family on December 21, 1892. One of five children, Hagen's family struggled financially and for that reason he was not given access to the game of golf in the same way that many of his more privileged peers were.
Hagen learned the gentleman's game the old-fashioned way, caddying loops at the Country Club of Rochester. The several cents that he made a round went to his family, but what Hagen really valued was the time that he got to spend on the course.
While caddies were not given unprohibited access to the course, Hagen was allowed to sneak on when the club wasn't busy, and he utilized that opportunity every chance that he could get.
Eventually, Hagen's enthusiasm for the game would earn him the attention of the club's head pro, Alfred Ricketts, a mentor figure that would gradually help him to improve his game to the point that it reached peak competitive levels.
The development of young Hagen's skills was gradual but steady, and by the time he was in his mid-teen years, he would trade in his job as a looper for that of a teaching pro in the tour shop, giving lessons to the members.
At the age of nineteen he would take everything that he learned at the Rochester Country Club and use it to turn professional at the Canadian Open.
Professional career
Young Walter Hagen came out hot on the tour. His debut at the Canadian Open did not end with him taking home hardware, but he did finish in a respectable eleventh place that showed the pros of the day that he was serious business.
While the opening eleventh was impressive, the highlight of Hagen's season that year would come at the U.S Open where he would surprise the world of golf with a fourth place finish.
At the time of this finish Hagen was very vocal about the fact that he was not being treated very well by the other players on tour. According to him he was getting pushed out of the practice area by more experienced pros that felt he had no place there.
Hagen is quoted as saying "They pushed me off the tee and told me I could practice when they were through".
But while the young pro might have felt that he was being mistreated at his major championship debut the abuse seems to have paid off for him in a big bad way.
After leaving that tournament frustrated by the way in which he had been regarded by his peers, Hagen made a resolution to himself: not only would he compete in the next year's U.S Open Championship, he would win it.
And he did.
In 1914 at the age of 20 years old, Hagen would win the U.S Open (his first of a then unprecedented eleven major victories) and jump start one of golf's most significant careers.
He would only win that one title in the 1914 season but after that the floodgates were open. He would win three times in 1915, and continue with a string multiple win seasons until he ultimately reached an incredible tally of forty-five professional victories.
The wins themselves were impressive, but what was even more substantial was the impact that he was having on the sport itself.
While the game had always had at least a limited following of fans, Hagen was perhaps the first player in the sport's history to raise its profile to a national stage.
It wasn't just Hagen's skill that brought the game of golf to greater attention. It was his swagger. His style. His wealth.
Hagen was famous because he put himself out there, playing hundreds of exhibition matches throughout the course of his career that would bring in fans from all over the country.
The more famous Walter Hagen got, the more famous his beloved game of golf became as well.
Through these matches, and through lucrative equipment design contracts Hagen became perhaps the first athlete to ever earn a million dollars setting the groundwork for the massive purses that professional players enjoy now.
Hagen would win his forty fifth and final tournament in the year of 1936.
Death
Hagen was diagnosed with throat cancer in the year of 1963. He battled the disease for four years before dying of it in 1969 at the age of 76.
Conclusion
As you can see, despite the fact that Hagen died before most modern tour players were even born, he nevertheless led a life of accomplishment that is still enviable to this day.
With forty-five wins and eleven majors Walter Hagen indisputably played the game just about as well as it has ever been played.
It is because of Hagen's incredible talent, his consistency and his ability to close when the stakes were the highest that he is still considered one of the top ten greatest players to ever live, even eighty years past the point that he was playing in his prime.
Walter Hagen was larger than life. Professional golf may or may not have shaped him but he, without question, shaped it.
See also: