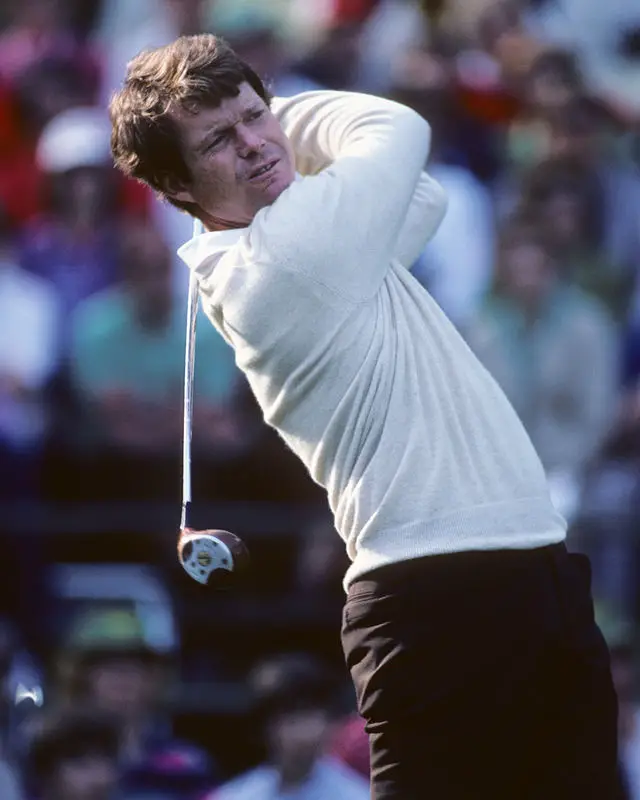 Golf is a game of inches. Of strategy. Of grit, of determination. All qualities not designated to one age or demographic. It is why Jordan Spieth has been able to claim a slew of titles, including several majors in his early twenties, and it is why an aged Tom Watson very nearly won the British Open at the age of fifty nine in what will be remembered as one of the most magical resurgences in the history of the game of golf.
While no one expects someone deep into the twilight of their career to factor into a major championship, fans of Tom Watson probably were not surprised to see the success that he had at Turnberry.
Watson was, is, and will always be a legend at links golf, and in fact, a legend at the sport in general. Today we will take a look at the life and the achievements of a man that proved to be a great rival to the Golden Bear himself. A man who continues to know what it takes to be a champion well into the later stages of his career. Read on to learn about what makes the legendary Tom Watson tick.
Tom Watson biography
Early years
Born on September 4th, 1949 in Kansas City Missouri, Watson took to the game of golf early, learning the sport at the knee of his father Ray.
Unlike Woods, or Nicklaus or even Palmer, Watson did not find rapid success at a young age. However, he did manage to jump into the spotlight relatively early in high school when he won the state championship four straight years in a row.
Watson would parlay his high school success into a golf scholarship at Stanford University where he would earn a degree in psychology.
Watson graduated in the year 1971 and immediately joined the tour, where he would meet Bruce Edwards, his lifelong caddie, at the St. Louis Open at Norwood Country Club.
Career
Watson's career on the tour would start relatively slowly. The first three years of playing professionally unfolded with little to be said of consequence about his time on the tour. However, in 1974 he would make a splash at the U.S Open where he would go into round four with a fifty four hole lead.
Watson would ultimately play poorly in the fourth round and lose the tournament by a wide margin, but he would earn the attention of tour legend and broadcaster Byron Nelson.
Nelson approached Watson in the locker room after the tournament to offer him tips and words of encouragement.
The interaction at that junction would be brief but the two men would ultimately develop a close relationship. Nelson would continue to mentor Watson on course management until the young man would ultimately achieve his first victory later that year.
After that, Watson's success on tour would come quickly and would continue with great regularity.
His first major championship would come at the Open Championship in 1975. This would be the first of seven major championships, making him one of the most prolific players on golf's biggest stage events.
He would ultimately win an almost unmatched five Open championships (almost making it six at the age of 59 when he lost by a hair in a playoff to Stuart Cink in the 2009 Open).
The 1975 Open was actually his first start in this major as well, making him one of only four other players to win this particular championship in their debut performance.
After Watson's win at the '75 Open he became a verifiable force to be reckoned with on the tour, standing as a prominent rival for the big three (Nicklaus, Palmer, and Player) with whom he would exchange many victories and defeats in the seventies and eighties.
Watson's success is attributed largely to the completeness of his game. Indeed, few to ever tee it up have been as well rounded as him. Despite his petite size Watson was known to be very long but that did not stop him from being lethally accurate with his irons and woods and very sharp on and around the greens.
Additionally, he was known to be exceptional in challenging weather conditions, a skillset that undoubtedly helped him to accumulate the five open championships that represent the crowning achievement of his career.
Like many of the game's best, Watson also had a reputation for honesty and honor, calling penalties on himself that no one else had detected or was sure of, and even, on one famous occasion, spending time comforting a competitor who had been heckled by one of Watson's fans.
In addition to being good in all the typical ways that are common to the game's great players, Watson was also known for performing grand shots at critical moments. A chip in for eagle on the fourteenth hole on the final day of his first major victory is ultimately what helped secure him the win.
Watson's most famous shot came at the 71st hole of the 1982 US Open, Pebble Beach's famous par three seventeenth.
Watson had hit his tee shot into the heavy rough just off the green, a discouraging situation considering that he had arrived on that hole tied with clubhouse leader and longtime rival Jack Nicklaus.
The general consensus by announcers was that Watson would be very lucky to make par and that bogey was far more likely. Watson felt differently. He told his caddy, Bruce Edwards, that he would sink the chip and several seconds later it was in the bottom of the cup. Watson would go on to win by two, authoring what remains one of the most famous finishes in golf history.
He would finish his career with thirty nine professional wins.
Later life
In his late sixties now, Tom Watson no longer competes with the frequency that he once did. Still, he does hold a presence in the sport, commentating when he feels necessary, and even occasionally competing on the senior and regular PGA tour.
Conclusion
At almost seventy, we probably should not expect Tom Watson to seize hold of the lead at a major championship again. But while the competitive days of Watson may now be behind him, the legacy that he has left the tour with is something that will endure for as long as professional golf does.
It isn't just the seven major championships that did it. It's the spirit, the miracle shots, the come from behind wins, the grit and determination that proved enough to give even Jack Nicklaus pause.
These are rare attributes not commonly seen in competitive golf, and even modern fans should thank Watson for so frequently bringing them to the competitive stage.
See also: