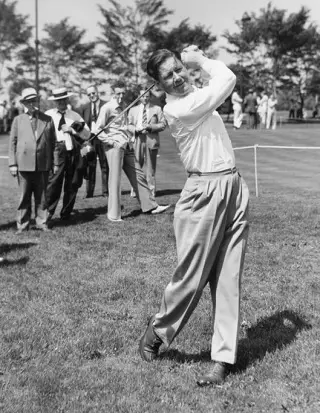 One of golf's greatest legends almost did not survive childhood. Byron Nelson was born into a different time, near the beginning of the twentieth century, and faced trials and tribulations that, while now outdated, were common and destructive to the age.
Nelson managed to overcome challenges early in life and set records that players of the modern era continue to chase. The game of golf has not known many players like Nelson, neither in his time, nor now.
Today we will honor the legacy of one of golf's greatest players as we take a close look at the life and achievements of Byron Nelson.
Byron Nelson Biography
Early life
Nelson was born in the year 1912 to parents Madge and John Byron Nelson. Both devote members of the Church of Christ, Nelson was raised in the church setting, and would carry his faith with him for the entirety of his life.
Nelson was sickly as a child, nearly dying of typhoid fever at the age of eleven, shortly after his family moved from Texas to Fort Worth Florida.
Perhaps in part because of his illness, Nelson did not take to the game quite as early as the majority of the game's icons. Nelson would ultimately discover the sport at the age of twelve when he would take a summer job as a caddy at the Glen Garden Country club.
When he began caddying hew was utterly unfamiliar with the game, but over time he would learn it and love it.
While one of the main benefits of caddying used to be access to golf, this was actually not the case at the Glen Garden Country Club, where caddies where not allowed access to the course except for in the context of looping. Still, this rule did not stop Nelson from practising discreetly as often as he could, even working on his putting in the dark of night.
Two years after Nelson took employment there, the club would ultimately lift the ban on caddy golf and commemorate this change of policy by hosting a caddy tournament. Nelson would win the tournament by a single stroke, beating out fellow caddy and future tour rival, the iconic Ben Hogan.
The two legends would maintain a friendship for the majority of their childhood and would even take that camaraderie with them to the tour. However, they would eventually grow apart as Nelson flourished in competitive golf while Hogan initially floundered.
Nelson would enjoy a string of amateur success until the age of twenty where he would start competing professionally on the tour. To supplement his income as he started out he would also take work as a teaching professional, where he would meet his future wife, Louise Schofner
Career
Despite all of his promise, it was something of a challenge for Nelson starting out. Nelson's slightly delayed beginnings in the game were not due to any lack of skill or talent, but rather, lack of opportunity opportunity. Based out of Texas, it was difficult to gain any traction in the competitive world outside of events that were near him.
Nelson had been hit hard by the Depression, and could not afford to travel to play competitively. However, things did begin to get a little bit better after a string of top three finishes in prominent Texas events gave him the traction he needed to land a job as a teaching professional at the Ridgewood Country Club in New Jersey. From there he was able to continue to compete and work on his game while simultaneously earning an income.
The early days of Nelson's career also were highlighted by one of the biggest technology changes in the history of the game. Club manufacturers were beginning to switch from hickory shafted clubs to steel: a development that required a complete overhaul of the golf swing. Nelson became one of the first players to adopt this change, authoring an early version of what we now consider to be the modern golf swing.
All of this hard work would pay off for Nelson in a big way in 1935 when he would break through on tour with a big win at the New Jersey State Open. From that point, he would enjoy consistent success on the tour for the majority of his career, eventually going on to win a total of fifty-two tournaments.
Winning fifty-two times is impressive in its own right, though most suspect he would have won many more had he not retired at the age of thirty four to become a rancher.
Even despite the fact that Nelson retired young, he still managed to set what continues to be an unbreakable record.
Nelson's record breaking year
1945 was very special for Byron Nelson for a couple of reasons. First, he won eighteen times that season. He also won eleven of those tournaments consecutively.
By many this is considered to be the best season in the history of the sport, though there are golf historians that put a significant asterisk by the figure. The field of competition was greatly diminished because of the war in 1945, leading many to conclude that the record is not quite as impressive as it initially sounds.
But despite the fact that the war did indeed diminish the field of competition, the fact does remain that some of the best players to ever live, including Ben Hogan and Sam Snead were still in the field that season.
Regardless of how the results of 1945 are considered, Nelsons records remain intact to this day.
Later years
Byron Nelson lived to the age of 94, passing away at his Texas ranch in 2006.
Conclusion
And that's that. The life and career of a champion that accomplished more by the age of 34 than most competing professionals do in their entire career.
Nelson may be gone now, his accomplishments obscured by time, but the fact remains that even after over seventy years of time, his records endure, with no signs of being broken anytime soon.
See also: